Posted by Singing Dog Vanilla / Blog / 0Comments
Whether you're an experienced baker or found a recipe calling for vanilla bean paste, this post will help you understand how and when to use vanilla extract and vanilla paste. Although they are both vanilla and have similar flavor profiles, their differences can impact the look and feel of your favorite desserts. Using new ingredients, […]
Whether you're an experienced baker or found a recipe calling for vanilla bean paste, this post will help you understand how and when to use vanilla extract and vanilla paste. Although they are both vanilla and have similar flavor profiles, their differences can impact the look and feel of your favorite desserts.
Using new ingredients, trying different flavors, and testing new recipes is a joyful experience for most home bakers. As we know, vanilla extract is a common ingredient in many recipes. People use it to add vanilla flavor to baked goods. It also enhances the flavors of sugar, milk, eggs, etc., similar to how salt enhances a steak's flavor. Using vanilla can even help you get more comfortable with gluten-free baking if you have a gluten intolerance. As you get more complex with baking, you'll likely see vanilla beans or vanilla bean paste listed in the ingredients. This raises the question; what is the difference between them?
Extract
Vanilla extract is probably nothing new to you. It's an essential ingredient in baking because of its flavor qualities. It's easy to use, so it is the most popular way for bakers to use vanilla. However, it doesn't provide as intense a flavor. That's why bakers use paste and whole vanilla beans in certain foods. To make vanilla extract, you must soak vanilla beans in alcohol which extracts the flavor. The extract is a liquid and doesn't add visual appeal to your food. It is only to enhance flavor.
For vanilla extract to be considered an 'extract,' it must be at least 35% alcohol, so anything with less alcohol is a flavor, not an extract. Some brands use artificial flavoring to achieve a vanilla flavor, but real vanilla beans are not in the product. To get the most taste in your baked goods, you should always use a vanilla extract or flavor made with real vanilla beans.
Paste
Before talking about paste, let's first talk about beans. The type and region they're grown make every species of vanilla bean a little different in terms of the flavor profile. Regardless of where they are grown, they add vanilla flavor to frosting, syrups, sauces, ice cream, beverages, and various desserts and dishes. Another benefit of using vanilla beans is that they will add vanilla specks to the food. However, since vanilla is the second most expensive spice and using whole beans can be costly and time-consuming, people began making a paste to simplify recipes that call for a whole bean.
Bakers use vanilla bean paste as an alternative to vanilla beans in recipes you want the texture, taste, and visual appeal of real vanilla beans. We make vanilla bean paste with double-strength extract, ground vanilla bean specks, sugar, and natural thickeners. It has the consistency of honey despite the name paste. When you want vanilla to be the star of the show, you can use vanilla bean paste to get vanilla specks and signal that you're using real, premium vanilla.
There are still plenty of reasons to use whole vanilla beans. If you'd like to make a homemade vanilla extract or use a leftover vanilla bean pod to make vanilla sugar, you will want to use vanilla beans. Still, in most cases, vanilla bean paste is a great option to make baking simpler. Also, using a vanilla bean can be a fun experience if you haven't before, so they are worth having on the baking shelf of your pantry.
How and When to Use Vanilla Extract and Vanilla Bean Paste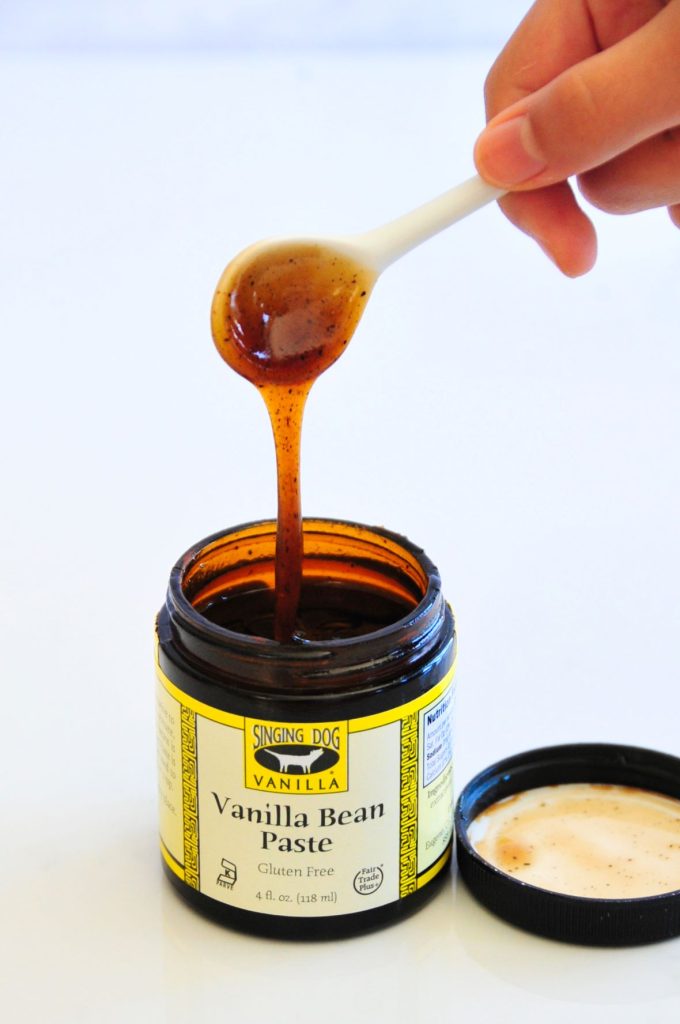 The purpose of vanilla is to add smooth vanilla flavor to baked goods and enhance the flavor of other things, like sugar, milk, eggs, and other ingredients. The true beauty of vanilla is how it combines with the other ingredients to enhance the flavors, so vanilla should never be an ingredient you skip when baking.
People use vanilla extract for simple recipes such as cookies, cupcakes, and vanilla cakes. On the other hand, vanilla bean paste is often reserved for more complex recipes or dishes with a thicker consistency (ice cream, frosting, pudding, crème Brulee, etc.,.). Have you ever had a cake, ice cream, or panna cotta with little black specks? That is from using the seeds of a vanilla bean. Vanilla bean paste is a cheaper and more effective way to get those classic specks in your desserts.
The main difference between extract and vanilla bean paste is that paste has a thick (honey-like) consistency and vanilla bean specks. It is often used for desserts with a thicker consistency or where the visual appeal of vanilla beans is desired. Vanilla extract is a liquid and does not contain any of the specks from a vanilla bean. It's more commonly used for home baking and will be the first choice for most recipes.
Vanilla Bean, Extract and Paste Equivalencies
If the recipe uses vanilla beans, it will likely call for ½ to one entire vanilla bean. So, if you decide to use vanilla bean paste instead, you need to know how much to use in place of the vanilla bean seeds. One tablespoon of paste is equal to one gourmet bean. Vanilla bean paste can also replace extract in a recipe with 1 teaspoon (tsp.) = 1 tsp. For vanilla extract, one teaspoon is approximately equal to a 2-inch piece of vanilla bean. So one grade-A vanilla bean will be the equivalent of 3 tsp. or 1 tablespoon of pure vanilla extract.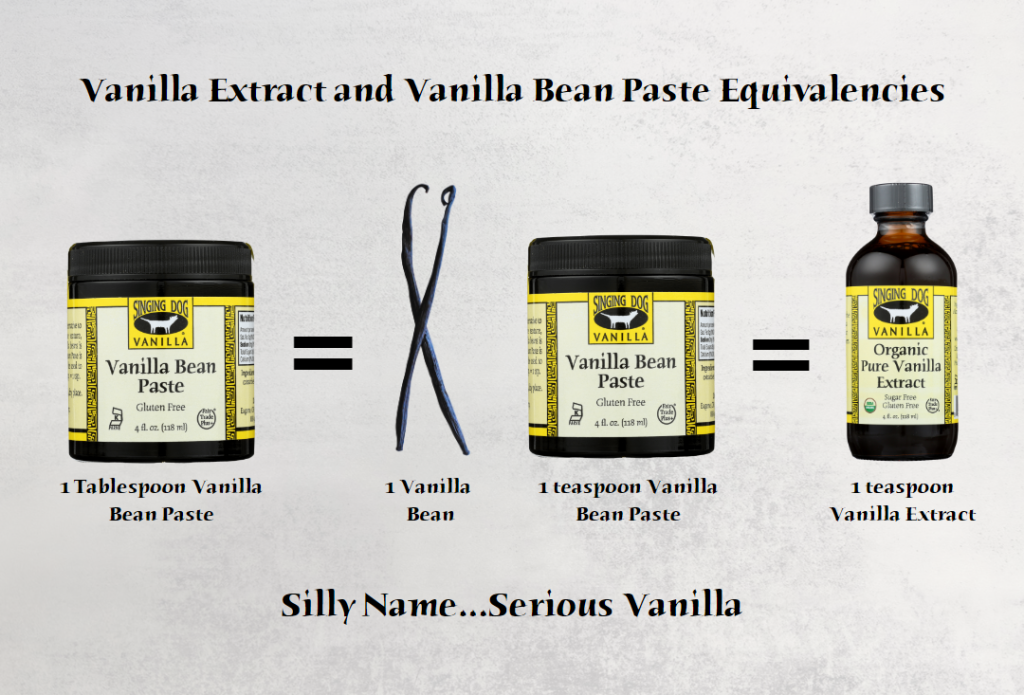 In addition to delectable desserts, vanilla bean paste can also be great for flavoring smoothies, yogurt, oatmeal, and pancakes! Suppose you're looking to give your favorite foods great visual appeal. In that case, vanilla bean paste is perfect for you.
Use Vanilla Extract and Vanilla Bean Paste in Recipes
These are some of our favorite recipes. They are all allergy-friendly (or can easily be made allergy-friendly) and use either vanilla extract, vanilla bean paste, or vanilla beans. If the recipe calls for a vanilla bean, remember that one vanilla bean equals one tablespoon of vanilla bean paste.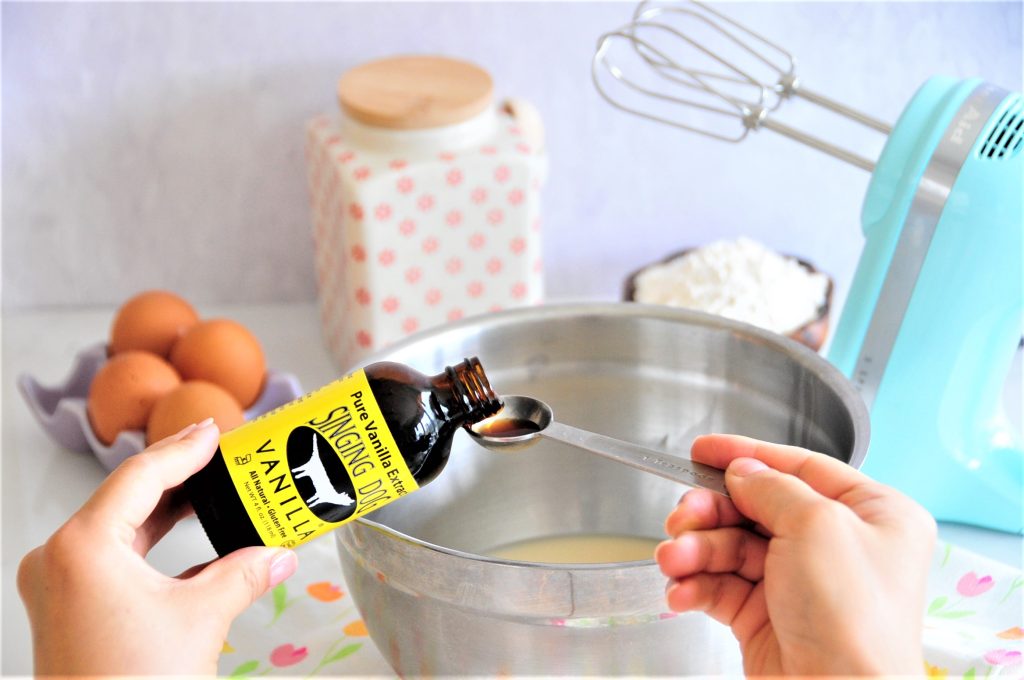 Recipes with Pure Vanilla Extract
Recipes with Vanilla Bean Paste (or Vanilla Beans)
You can find great recipes using our vanilla products by visiting our recipes page or connecting with us on social media. If you tried one of our recipes, let us know your thoughts, or tag us in your creations on Instagram.
This error message is only visible to WordPress admins
Error: No feed found.
Please go to the Instagram Feed settings page to create a feed.
Want to try vanilla bean paste for yourself? Shop online or on our amazon store. You can also find it in person by visiting our store locator and finding a natural grocery store or co-op near you.
Top