Meet our Team and learn about the people who keep our company humming along.  We hope these clay figures will remind you of our silly name and will encourage you to introduce your friends to us.  The people behind the figures are happy to demonstrate that we are serious about Vanilla.   Give us a call.  We are happy to chat.
Singing Dog Vanilla.    Silly Name…. Serious Vanilla.
Keiko spends much of her time volunteering at the local Japanese language immersion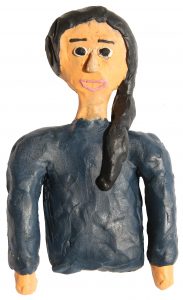 school.  Here at Singing Dog Vanilla she makes sure that we are always in compliance with Organic Certification and FDA food safely rules and generally makes sure our products are the best quality.  We hope to someday make use of her passion for essential oils.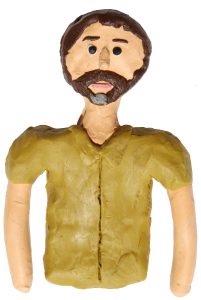 Billy is one our our sales crew.  He and his wife have their hands full raising twins.  However, when he gets some free time he can be found river rafting.  He and his wife also love to attend music festivals.  Billy started with Singing Dog Vanilla in our shipping and receiving department but quickly became one of the people you talk to you when you give us a call.  Billy also embraces the silliness of our brand by participating in videos such as our Monty Python spoof.
Muhir is the Singing Dog Vanilla farm manager. When he is not traveling around visiting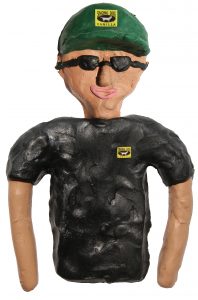 organic vanilla farms, he enjoys SCUBA diving.  He holds a Master Diver rating.  He is also a supporter of environmental research and a community organizer for the protection of the marine environment in Indonesia.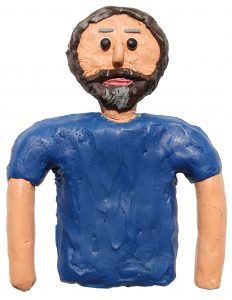 Graham has been with Singing Dog Vanilla since 2005 as a sales person.  Although he grew up in Southern California, he settled in Oregon after completing his studies in fine arts at the University of Oregon.  He enjoys hiking and exercising outdoors.  Growing up in a restaurant-owning family left him with an appreciation of the hard work that goes into serving great food.
Erin is one of the sales people you'll enjoy speaking with when you call into our offices.  Her love of food
and her appreciation for great-tasting desserts means she fits right in here at Singing Dog Vanilla.  Erin was the obvious choice to become the curator of our Pinterest Page.    Erin's son, Chase, is the sculptor of these clay figures of our team.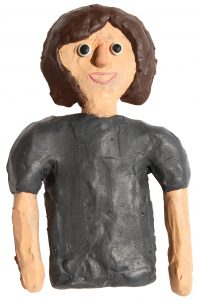 Irene is a sales person based in our Phoenixville, Pennsylvania office.  She is a self-proclaimed chocoholic and loves getting samples from our chocolatier customers.   Irene has a passion for vintage jewelry and furniture.  When she is not busy running our brand's Instagram page you may bump into her in the antiquing community.
Dick rides a bicycle to work everyday regardless of Oregon weather. Then he spends a full day on his feet making sure your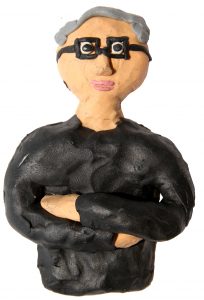 order is packed and shipped on the same day you ordered it.  After a full day of work he rides his bike home (uphill!).  The only time we have seen him drive his car is when he is dropping it off for a tune up. He enjoys spending his weekends with his family and his garden.  Dick is so full of energy the rest of us question whether he has ever been seen sitting down.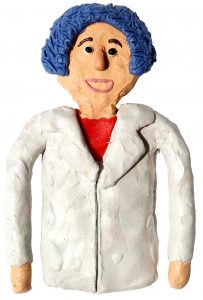 Kathy will likely be mistaken for a surgeon by visitors to our Pennsylvania facility .  A white lab coat, blue hair net, and face mask means she is ready for a day of preparing nearly every bottle of vanilla you purchase from our company.  She spends her free time with the many rescue animals in her care.  She particularly loves her rescue "dogs, kitties, and chickens".
Julianne keeps our company books in order.  If you have a question about an invoice or need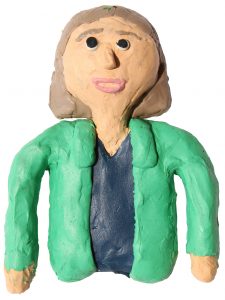 a statement generated, you will be speaking with Julianne.  She loves reading and painting.  Her bliss is found on a quiet afternoon in an art gallery or during a stroll on the beach.
Bill is one of the Co-founders of our company.  The documents founding Singing Dog Vanilla were signed on his kitchen table on April Fool's Day, 2004.  Bill spends many hours volunteering at his kid's Waldorf School.  When Bill is not traveling to be with our vanilla farmers, he enjoys woodworking. He particularly likes making wooden furniture.  Many of his creations populate his home.
Marty is a Co-founder of our company.  It's his fault we have such a silly name.  When the weather doesn't allow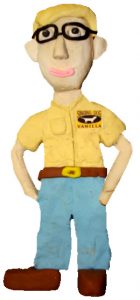 him to be on the lake sailing or paddling, he can be found in his shop building wooden boats.  He also enjoys volunteering in local schools for Junior Achievement.