What is Fair Trade Plus+ ® ?
Fair Trade Plus+ is a partnership between the families who grow our vanilla and our company. Our farmers are paid market prices for their vanilla bean pods and also share in the profits of Singing Dog Vanilla.  This partnership allows vanilla farmers to participate in the profits from the final, value-added products made from the vanilla they grow. In exchange for sharing a percentage of profits with the farmers, the farmers agree to practice organic and sustainable growing methods.
What problem does this solve?
We are not a giant vanilla company buying container loads of vanilla bean pods through brokers. Bill and Marty started this company because they saw an opportunity to create a profitable company while working directly with smaller, family farmers in Papua New Guinea and Indonesia.
Vanilla farmers in this region have problems that our program solved:
Farmers were often at the mercy of whatever prices they can get on the day they travel to town to sell their small crop.
If the buyer in town that day was buying only short beans for making extract, but the farmer had only Chef Quality vanilla in hand, then they were out of luck for the day.  It is difficult to plan the length of bean to grow when they cannot predict what a buyer will be looking for nearly a year from pollination.
Poor cash flow. Vanilla crops are generally harvested only once per year and therefore only sold once a year. Many farmers will hold on to the cured vanilla beans and sell them only when they need cash.  This also makes it difficult for us to buy and ship the vanilla beans to the USA efficiently. We need to buy all of their vanilla at once.
Sometimes a farmer may be in need of immediate cash and will pick his product too early so as to get it to market. This causes a poor quality vanilla bean with little flavor.
How does Fair Trade Plus+ solve these issues?
When the farmer has a partnership stake in the final sale of his vanilla he is more likely to monitor quality, ensure steady supply, and to maintain sustainable growing practices. However, Fair Trade Plus+® farmers are getting either monthly or quarterly payments in profit share so they can afford to wait until the produce is perfect. They are also able to sell all of their small crop to us at once since they know they will still have a steady flow of cash from the profit share.  Farmers that know in advance that there is a market for their vanilla are able to invest the time to grow a higher quality product, which in turn creates happy customers for Singing Dog Vanilla.
What is the difference between Fair Trade Plus+® and other fair trade programs?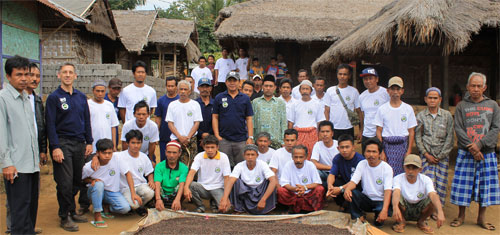 •  Often fair trade organizations will only work with farmers cooperatives.  Many family farms cannot afford the annual membership fees required by large certifying Fair Trade agencies. Fair Trade Plus+ allows smaller family farms and village farms to access developed world markets and higher revenues.
•  Since profits are shared with the farmers, both producers and buyers interests are aligned. There is no need to pay fees to a 3rd party to verify compliance.
We are always trying to improve this program.  We have been invited to speak about Fair Trade Plus+ at universities and industry events.  Please contact us if you would like share profits with your farmers and would like to use the Fair Trade Plus+ logo on your packaging.  We are happy to share our experiences and our logo.