What is Fair Trade Plus+ ® ?
Fair Trade Plus+® is a partnership between family farmers and the companies that bring the farm's produce to market. This partnership allows the farmers to share in the profits of the final, value-added product made from their farm produce. In exchange for sharing a percentage of profits with the farmers, the farmers agree to practice organic and sustainable growing methods.
So, how does Fair Trade Plus+ ® work?
Let's say farmer in Samoa is growing organic cacao beans and selling them for the market price of $0 .85 a pound to a Fair Trade Plus+® partner company in the USA. That company then has the cocoa beans husked, freeze dried, then powdered, and packaged for sale in 8 ounce containers for $11.50 for a gross profit of $5.75 on the company's web site. Under Fair Trade Plus+® guidelines the farmer would receive up to 5% of the gross profits which, in this example would be about $0.29 . If we assumed that one pound of raw cocoa yielded one pound of cocoa powder then the farmer would receive an additional $0.58 per pound for his crop above the .85 cents already paid for the raw material.
What is the benefit to the importing Fair Trade Plus+® partner that develops and markets the value-added product?
When the family farmer has a partnership stake in the final sale of his produce he is more likely to monitor quality, ensure steady supply, and to maintain the best growing practices. Sometimes a farmer may be in need of immediate cash and will pick his product too early so as to get it to market. However, Fair Trade Plus+® farmers are getting either monthly or quarterly payments in profit share so they can afford to wait until the produce is perfect. Happy farmers mean higher quality product, which in turn creates happy customers for the final customer.
What is the difference between Fair Trade Plus+® and other fair trade programs?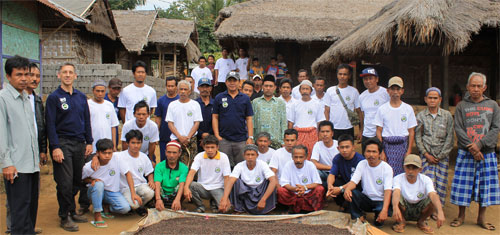 •  Other fair trade organization will only work with farmers cooperatives. Fair Trade Plus+ allows smaller family farms and village farms (the bulk of the worlds' farms) to access developed world markets and higher revenues. Most farmers cannot afford the annual membership fees required by large certifying Fair Trade agencies.
•  Many crops are harvested once or twice a year resulting in single large payments to the farmers by the purchasing company. However, Fair Trade Plus+® farmers not only receive these bulk payments for their product but also receive regular profit share payments allowing for a steady income stream not often experienced by family or village farmers.
•  Since profits are shared with the farmers both producers and buyers interests are aligned. There is no need to pay high fees to a 3rd party to verify compliance.