Brands That Trust Singing Dog Vanilla
"The paste was very easy to use, and the flavor was perfect in the cake that I made. Adding it to my coffee was also a real treat! We love it."
Jane Quick, Newburgh, NY
Customer
"The flavor is amazing and enhances all the recipes I've tried it with. I made 18 vanilla cookies, and they were gone in 5 minutes."
Valerie Nicholson, Omaha, NE
Customer
"We sourced top-notch double-strength vanilla extract from our friends at Singing Dog Vanilla in Eugene, Oregon. We love that they not only work with growers in Papua New Guinea and Indonesia to produce the exceptional vanilla but also give these farmers a fair price and a share of the profits."
Salt & Straw Ice Cream Cookbook
Salt & Straw Ice Cream
"You have to love a company that puts the environment first and then goes the extra yard by recirculating a portion of their revenues back to their partner farmers to support organic growing methods. Does this compassion make the best vanilla on the market? By BabyCakes NYC's admittedly high standards, absolutely."
"We love Singing Dog Vanilla, which has an amazingly full flavor and is made from beans harvested by small family farms in tropical regions."
Karen Mitchell, Sarah Mitchell Hansen & Rick Rodgers
The Model Bakery Cookbook
Wow! Just emailed a question to "Contact Us!" and one of the owners CALLED me within 10 minutes! Haven't had that kind of customer service since 1985. He answered MANY questions with a delightful personality. After, I took the time to read the website & now a serious fan. Truly an inspiring story!!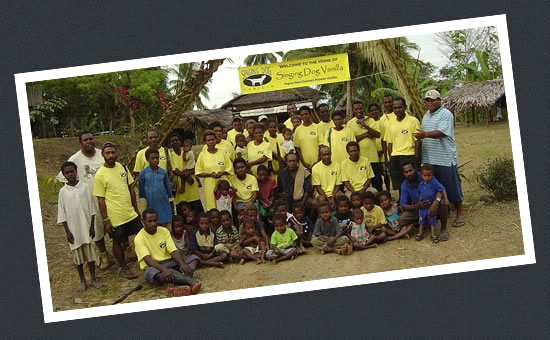 OUR STORY
The Vanilla Files of the Vanillaphiles
First of all, yes, we indeed founded this organic vanilla business on April Fool's Day 2004 at Bill's dining room table in Kailua, Hawaii. Second of all, yes, we do know that Singing Dog Vanilla is a pretty silly name.
The Beginning
Bill Wiedmann and Marty Parisien came up with the idea for Singing Dog Vanilla while traveling throughout the Pacific Islands, assisting farmers with marketing, finance, and productivity improvements. Marty had read a book by Seth Godin called Purple Cow. On page 107 of that book, Seth writes, "But vanilla is boring. You can't build a fast-growing company around vanilla."