Featured: Joe Rancatore of Rancatore's Ice Cream & Yogurt
By Janaea Riddle


Imagine a flavor and you might just find it at Rancatore's Ice Cream shop. We've all tasted chocolate & vanilla ice cream, but what about gingersnap molasses (with real gingersnap cookie pieces) or bourbon butter pecan ice cream?  Joe Rancatore the owner and creator of these fabulous ice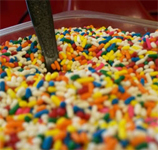 cream flavors takes a bit of time out of his busy schedule to share his passion for ice cream and love for the people he serves.
Why did you decide to open an ice cream parlor?
In 1981, when I was 27 years old, I moved to Boston and began working in my brother Gus's ice cream shop, Toscanini's. I loved it and wanted to expand the business but Gus did not want to open a second store. So in 1985 I founded Rancatore's Ice Cream in Belmont MA and opened a second location in Lexington MA in 2004. Only in retrospect did I realize that at 27 I found a career and at 31 I found business. I speak to youth about finding their career and my best advice is to be passionate about what you do and the rest will fall into place.
How is Rancatore's ice cream different from other ice cream?
We make all of our ice cream in small batches at the factory in back of our Lexington store. We start with H.P. Hood ice cream base, and combine it in imaginative ways with fresh produce, high grade nuts, real European chocolates, and other top quality ingredients. We "spin" the ice cream just right in order to create a creamy, great bodied ice cream. Another difference is that we have a philosophy of no added sugar and although some flavors require sugar for proper texture, we avoid it whenever possible.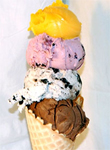 How many flavors do you sell?
We have 20 ice creams on display at any given time, along with 8 yogurts and two sorbets. Over the course of a year we may make 75 to 100 different flavors. In the summer we make more flavors from the fresh, seasonal fruits that are available and in the winter we make more chocolate ice creams. Right now, fall is approaching and we are making our last batch of blueberry ice cream for the season.
What Ice Creams are your top sellers?
Vanilla is our most popular quart flavor. We have 3 types of vanilla. We also have three types of chocolate which are popular along with hydrox cookie ice cream, and coffee ice cream. We also make several flavors of khulfi (commonly called Indian ice cream) which people really enjoy.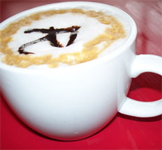 Ice cream is a great treat on a hot summer day, but what happens at your shops in the winter?
We are lucky to be in New England where people enjoy ice cream year round. In fact, we usually get quite a rush of customers right after a snow storm.
What is your favorite flavor?
Gingersnap Molasses, Chocolate Mousse Yogurt, Irish Coffee with Cookie, Coconut Sorbet, Grape Nuts & Raisin. I am a fanatic about texture which is why I love flavors like the Gingersnap Molasses with its pieces of gingersnap cookie in the ice cream.
What types of cones do you serve?
We make our own oversized cones, pretzel cones and M&M cones, but our #1 sellers are the traditional sugar cone and the flat bottom cake cone.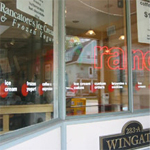 What is Rancatore's Ice Cream Parlor like?
Our shops are like an old fashioned Norman Rockwell ice cream parlor with a family feel. We offer classic flavors as well as new and creative ones that keep our customers coming back for more. You will find a suburban, family oriented clientele with kids frequenting our establishment. The kids love us, and the youth that work for us are responsible and we trust them to take care of our customers. We are a place for all these people to find the commonality of great ice cream.
What is the best part about what you do?
It's definitely the people – both the customers and the workers. On a busy summer night we'll have everybody working in sync with the music playing and happy customers enjoying their ice cream. We're all having too much fun to call it work.
How about an ice cream serving tip?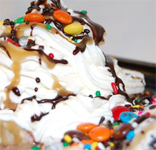 Well, I am not a "fill up the cup" kind of guy. You need to pack the ice cream loosely with lots of nooks and crannies so some of the hot fudge and other toppings are still there for the last spoonful.
Locations:
Belmont:
36 Leonard Street
Belmont MA 02478
Phone: 617-489-5090
Lexington:
1752 Massachusetts Ave.
Lexington MA 02420
Phone: 781-862-5090
Hours of Operation: 10 AM to 11 PM Daily at both locations
Website: http://www.rancs.com/