Featured: Tobi Sovak of Noisette Pastry Kitchen
by: Anita Chu of Dessert First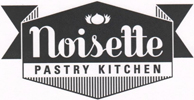 After a cross-country career, pastry chef Tobi Sovak has found the home to hang her hat in Eugene, Oregon. Originally from Philadelphia, Sovak has worked in fine restaurants in New York, San Francisco, and Los Angeles. She spent almost 10 years in L.A. before moving to Eugene, and it took a while for her to settle into the Eugene life. "I missed the sunshine in L.A.", she admits. She wasn't sure she was ready for a slower, relaxed atmosphere. But she grew to love Eugene, its sense of community, and its artisan food culture. Sovak established herself as one of Eugene's pastry stars, first at Marche restaurant and then at King Estate Winery. Last year she decided to fulfill her dream of starting her own business and opened Noisette Pastry Kitchen with her husband Michael Landsberg.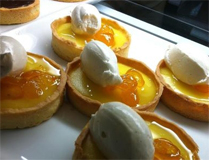 Noisette (pronounced "nwah-zet") is French for hazelnut, and the name is an homage to Oregon's hazelnut crop. She does admit that if she could, she would have named her bakery Hazelnuts, Pears, and Blueberries, for her three favorite ingredients, but it was too long. The pastries at Noisette reflect Sovak's classical training and fine dining background, tweaked to suit the more relaxed atmosphere of Eugene and the local bounty. Like many chefs, Sovak has a restless, endlessly creative mind and doesn't like to be tied down to making the same things over and over. There is no set menu at Noisette: every morning Sovak and her bakers make the day's offerings from scratch. Some of her recent offerings include a brioche Danish with kumquats, Meyer lemon blueberry scones, blue cheese walnut biscuits, and black olive shortbread.
One of the reasons Sovak decided to open her bakery in Eugene is the close-knit community of farmers and producers. She says, "Everyone knows the people growing your food, and you develop very close relationships with them" – a dream setup for a chef. Slovak adores all the local produce: right now, she is using winter citrus like Meyer lemons and oranges, but she's really looking forward to berry season. Sovak is also excited by farmers growing unusual grain varieties that are difficult to find elsewhere. To have teff, farrow, and buckwheat available in virtually your own backyard is a wonderful luxury for an adventurous pastry chef like her. One of her most popular items at Noisette is a chocolate chip scone made with 100% whole wheat.
Sovak's husband runs the savory kitchen, and creates the hugely popular lunch menu of sandwiches and soups. Sovak bakes the bread for the sandwiches: customers loved the bread so much that it's now available separately for purchase. Sovak is sensitive to customer requests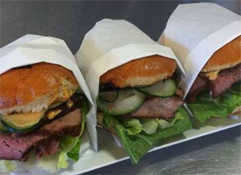 : she is working on introducing more savory pastries like tarts and pot pies. She also hopes to open up the patio for dining when the weather warms, helping make Noisette an even more appealing downtown dining spot. It looks like Sovak has found the right place for her in Eugene – and Eugene has a wonderful new destination bakery.
Noistette Pastry Kitchen
200 West Broadway
Eugene OR 97401
Phone: 541-654-5257
Hours: Mon – Sat: 8:00 AM to 7:00 PM
http://www.noisettepk.com/
Facebook: facebook.com/NoisettePK/