Featured: Maha Barrani and Pastry Arts Barrani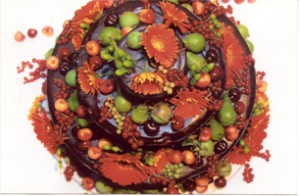 Once you see Maha Barrani's beautifully crafted cakes, you'll realize why she's one of the most in-demand cake designers in the Salt Lake City area. Barrani has been working in pastry for over 24 years: she began her career in hotels and country clubs, but decided she wanted to focus on cakes. She started her own custom cake business, Pastry Arts Barrani, and has been delighting brides and cake lovers ever since.
When asked about her signature style, Barrani demurs, saying that her cakes are about her clients and she's devoted to realizing their visions. Although she's done everything from pulled sugar to marzipan to chocolate work, she's still amazed at some the requests she's encountered. Some of her favorite cakes: Barrani recalls a bride who was a fly fisherwoman and wanted images of all the fish she'd caught handpainted onto the sides of the cake. Another bride asked for a cake completely covered in white frosting roses. Instead of making them out of the typical royal icing, Barrani made them out of buttercream; much trickier, but resulting in a softer, gorgeously realistic effect. Finally, there was the Phantom of the Opera themed cake, covered entirely in black fondant with metallic gold damask accents.
Like all artists, Barrani is meticulous and exacting when it comes to her creations. She's developed precise systems for making and setting up the cakes, to ensure they come out perfect and stay perfect until it's time to cut them. Barrani remember one outdoor wedding where she arrived to a blazing hot day and no shade for the cake table. She stood with an umbrella over the cake for 45 minutes to make sure the frosting didn't melt.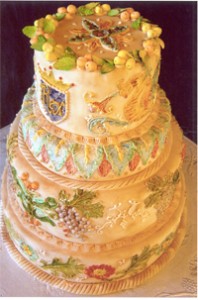 Outside of wedding cakes, Barrani admits to a fondness for using the bounty from the gardens on her property. She is an avid gardener and loves using what's in season in her baking. One of her favorite cakes to make is a simple sponge cake filled with Bavarian cream, berries from her berry bushes, and decorated with fresh flowers. Barrani and her husband share a love of fruitcake – she says her version is nothing like the oft-maligned mass-produced doorstoppers – and she makes a different one for their anniversary each year. She also loves delving into the history of cakes and collects vintage cake molds: inspired by some beautiful old gingerbread molds she found in Belgium recently, she said wants to try carving her own out of wood. It's no surprise given Barrani's passion and creativity that her cakes are so delectable – and memorable.
Pastry Arts Barrani
332 E 900S
Salt Lake City UT 84102
Phone: 801-596-3353
email: maha@pastryartsbarrani.com