Featured: Gwynn Baker from La Loba's Bakery
By Michelle Judd from Taste As You Go


And, just like that, in the blink of an eye, we're less than a week away from the unofficial start of summer. The days are longer and the notion of trading in the normal routine for the perfect vacation getaway is much more appealing. Before I escaped the clutches of life in New York City for a long weekend out in Phoenix, I had the pleasure of chatting with Gwynn Baker , who owns La Loba's Bakery in Blue Mountain Beach, FL about the importance of quality, organic ingredients and the variety food offered at the bakery.
What led you to open La Loba's Bakery back in 1994? Was the use of quality, organic ingredients a standard that you set from the start?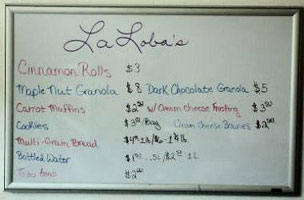 I majored in nutrition in college, so natural and organic foods always interested me. I've also always loved baking bread and was inspired by The Laurel's Kitchen Bread Book and its focus on baking whole-grain bread. Opening a bakery that offered delicious bread made with organic ingredients just seemed like the natural thing for me to do.
The word "organic" seems like such a loaded term these days. What are your thoughts about the "organic movement"?
I'll be honest, at La Loba's, we don't use 100% certified-organic ingredients all the time. Food may be labeled "organic" but it may still be traveling hundreds of miles from the farm to your plate. For me, true organic methods matter the most, and the bakery focuses on using ingredients that are local and sustainable. We have such a close connection with our vendors that we feel more comfortable buying their "grower-certified" food over buying the certified-organic stuff. By eating and cooking with local ingredients, we can provide food that's more seasonal and fresh. Eating something that tastes fresh equals pure enjoyment. That's the goal.
"Grower-certified" and "local" – is that what makes La Loba's Maple Nut Granola, your signature product, so special?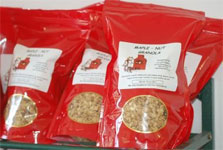 The granola recipe is a minimally-tweaked version of one that I got from my friend Susan. It only calls for oats, nuts, maple syrup (Susan used honey), extra-virgin coconut oil, and vanilla. And it may sound cliché to say this, but what really makes the granola is the maple syrup. Being in Florida, we don't have access to locally-made syrup. La Loba's gets our syrup from Milroy Farms in PA , the southernmost vendor I could find. In short, our Maple Nut Granola is so special because the ingredient list is simple and because we use the finest ingredients possible.
How did you choose the name "La Loba's"?
If you translate "La Loba" literally, it means "female wolf." Before the bakery opened, I had been reading Clarissa Pinkola Estes' Women Who Run with the Wolves and was inspired by the telling of the myth of the female wolf, which is nurturing and loving but wild and free at the same time. I can't really explain it, but something about that story just resonated within me on a personal level – so much so that there are pictures of wolves all over the bakery!
Did you always want to own your own business? If you hadn't opened La Loba's, where do you think you'd be today?
The love and passion I hold for food has always been there. I can remember standing on a stool in the kitchen as a child, helping our maid cook. She'd read the recipes to me and I just followed her instructions. As I mentioned before, I majored in nutrition in college and had every intention of becoming a dietician. Unfortunately, the number of internship positions available was extremely low when I graduated and I wound up working in a hospital system instead. "Corporate America" and I did not get along, so here we are. Though, if I were to choose a profession outside that of food, I'd consider doing something with organic farming or opening an organic flower business.
Gardening… Is that something you like to do in your spare time? What other hobbies do you have?
Oh, yes, I love being out in the garden. I also love playing with my animals – I have four dogs and four cats – and hiking and just spending time outside, surrounded by nature. I used to play the piano, but I didn't have the space to put it when I moved from the beach to the country. I'd love to go back to music some day.
Is there a baking tip you'd like to share with us?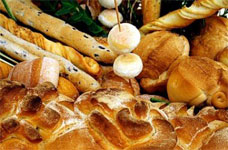 Baking takes patience, especially when you're baking yeast breads. It takes perseverance. Your first loaf of bread may not turn out the way you'd like it to… In fact, it may be ruined beyond edibility. But that doesn't mean you're not a "baker". You just have to believe in yourself – in the ingredients – and try again!
According to La Loba's website, the bakery has moved several times and has gone through "several incarnations." Now that you're settling into your location in Blue Mountain Beach, what's next for you? Do you think you'll move again?
I love our current location. We're right next to the largest natural foods store in the area, so I don't have any plans to relocate again. Though, we don't know what's going to happen to the local economy in the wake of this awful oil spill in the Gulf. On a positive note, there is a possibility that we'll open La Loba's West in the Portland, OR area. I have family moving to the West Coast, and opening another location will allow me to be close to them and to offer our delicious food to another part o the country, which will cut down on shipping costs and will help us stay true to our policy of using local and sustainable ingredients.


La Loba's Bakery
2217 West County Highway 30A
Blue Mountain Beach, FL 32459
(850) 267-0400
Website: http://www.lalobasbakery.com/
Hours: 9AM – 5PM, Monday – Saturday