EVOO Cannon Beach: 
Bob Neroni and Lenore Emery from
By Michelle Judd from Taste As You Go


I want to thank EVOO Cannon Beach's Bob Neroni and Lenore Emery from  for their patience and flexibility in answering my questions. Operating on two different coasts – East Coast (me) and West Coast (them) doesn't always lend itself to conducting an interview quickly, especially when we're dealing with packed schedules on both sides!
Why did you choose the name "EVOO" (Extra Virgin Olive Oil)? What significance does the ingredient play into yo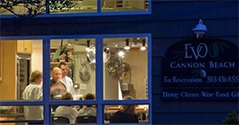 ur cooking?
When we were still going to open a restaurant, friends would ask us what kind of cuisine we like to cook. We usually answered any cuisine that uses EVOO as a main ingredient. That means lot of Mediterranean-style dishes. And, that means, to us, anyway, that we cook with local ingredients in the Mediterranean style – lots of vegetables, fruits, grains, and EVOO, with the focus on those ingredients rather than on the meats or proteins on the plate. We absolutely love Italian, Moroccan, Spanish, and Greek food.
Did you always want to open your own cooking school? What inspired you to set up shop in Cannon Beach?

No, opening a cooking school wasn't always in the life plan. We've always taught throughout our respective careers, so when we finally decided on a cooking school, it seemed so natural! We actually thought of opening a kitchen shop first in Cannon Beach, so we could live and work there, but the cooking school component goes with it, so the classes became our focus.
Before we settled on Cannon Beach for our location, we had looked for a restaurant space from Maine to Northern California. Bob fell in love with the Northwest after our first trip there to meet [Lenore's] family in Seattle, and his heart pulled him to the Northwest, where we also looked for a restaurant for a long time. We built our beach escape house in Cannon Beach with the money we were saving for a restaurant, and the rest is history!
How are your cooking classes structured?
We learned early on that our guests seemed to prefer "hands-off" classes in this beach town, so we focus on evening dining experiences. THE DINNER SHOW is our mainstay most Thursday, Friday, and Saturday nights and features three entrée courses paired with wines and a great dessert to close. This way, we can offer up to fifteen recipes in one evening (2.5 hours).
How do you choose which dishes to prepare and teach?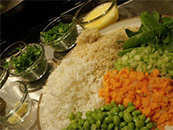 We get our inspiration from magazines, food news, and Food Network, as well as from talking with our guests and eating out on our own. We look at what is available in the stores, what we have preserved from the summer, and what the weather/time of year seems to inspire.
What is the food philosophy at EVOO?
We like to promote cooking with the best ingredients available, which plays to our theme of fresh, local, seasonal ingredients indigenous to the Northwest region. We do use specialty imported ingredients in moderation, as well as some ingredients from California and Hawaii when they're in season – citrus, avocado, pineapple, etc. Of course, our main ingredient – the EVOO! – is not produced locally in enough quantity, so we do look to California and Italy and Spain for that. Though, we do have a little Oregon EVOO from the Dayton area that we like. We prefer organic and naturally-raised meats but will take sustainable over organic ingredients that need to be shipped. In short, we're humbly striving to be more sustainable with our practices, and we're always working to improve.
Have you ever considered doing something outside of the food industry? If so, what would you do?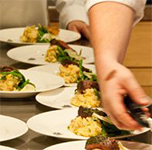 [Lenore's] been a public high school teacher, but it doesn't count because she taught "Culinary Arts" to students interested in a career in the hospitality industry. Bob tried pre-med a long time ago and quickly decided to stick with food. He also has an interest in acting, plays, and event writing for TV.
What do you like to do in your spare time, outside of the cooking school?
We have two standard poodles that get our attention when we're not at school. They are a joy and a handful all at once, but they get us out and playing on the beach every day. Bob would love to do more fly fishing, and [Lenore] would love to have time to garden more… and to shop! Our best times are with good friends, eating, and sipping!
Do you have a cooking tip you'd like to share?
Strive to learn technique so you can cook without recipes. Our goal is to teach technique and free students from being boxed into following recipes. It takes practice, but mostly just learning good technique, the "whys" behind the instructions, and the function of each ingredient in a recipe. It'll help you have more fun in the kitchen!
EVOO Cannon Beach
188 South Hemlock
Cannon Beach, OR 97110
(503) 436-8555
Website: http://www.evoo.biz/