Featured: Robb Duncan from Dolcezza
By Michelle Judd from Taste As You Go

The temperatures are rising as we welcome the sights and sounds and flavors of spring. The stalls at local farmers' markets around the country are starting to feature the first fruits and vegetables of the season. I had the recent opportunity to speak with Robb Duncan , who, along with his wife Violeta, owns Dolcezza in Washington , DC. As we spoke about the variety of flavors they offer, I made a mental note to schedule a trip down to DC so I could taste them all!
What inspired you to open Dolcezza?
My wife Violeta and I lived in Argentina for quite some time and we ate lots of gelato while we were there. We wondered if we could do this in the States, if we could provide people with a better product than the ice cream you typically find in the U.S. So, when we moved back to the U.S. in 2001, we took a class on gelato-making and one thing just led to another. We learned as we went along, and over the next six years, we formed relationships with the local farmers and developed our technical knowledge of the art.
It's so interesting to hear that your inspiration came from Latin America rather than Europe . When I hear the word "gelato," my brain automatically thinks of Italy .
Buenos Aires was a favored destination for immigrants in the early 20 th century, particularly those coming from Spain and Italy, so there is a tremendous Italian influence in the city. Naturally, the Italians brought the tradition of gelato with them, and the gelato in Buenos Aires , as well as at Dolcezza, is generally modeled after the gelato found in northern Italy .
Your philosophy is: "Be curious. Be spontaneous. Play with your food. Support local farmers and make exquisite gelato." Could you expand on that?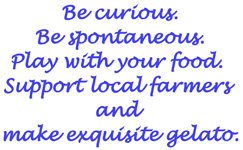 "Be curious. Be spontaneous." That's the way we approach everything. Our business is an extension of who we are personally, and we put who we are into our gelato. Spontaneity is a good thing and you want to live in the moment, no matter what the moment may be. That's the sentiment of life in Latin American countries, and we're trying to bring a little of that to DC. We're hoping our gelato will encourage people to eat the way we used to eat before the industrialization of food and to support the local farmers. Really good, local, fresh ingredients will always make a high-quality product.
Well, that leads me to my next question. What are the secrets to making delicious, authentic gelato?
There are two sides to making gelato: the artisanal side and the technical side. The artisanal side involves finding the right ingredients, while the technical side involves finding the balance between those ingredients. With gelato, it's all about texture because the texture delivers the flavor. A smooth, creamy texture will deliver the flavor more effectively in one bite than a texture that is icier because the ice crystals actually disperse the flavor throughout multiple bites. You need to know how to tweak your recipe according to the fruit you use. For example, we once made gelato with strawberries that were water-logged. We had to adjust the amount of water and sugar that we used to make up for the make-up of the berries. Knowing what needs to be adjusted helps bring out the real flavor of the fruit.
What is your favorite flavor of gelato?
That really depends on what's in season. Right now, we have a Champagne Mango Gelato and a Sicilian Blood Orange Gelato that are amazing. In May we'll have Strawberry Terragon, then later in the summer, we'll make gelato with peaches and Southern Comfort or Wild Turkey Bourbon, lemon with local basil… It's all fantastic.
I want to try all of those flavors! How do you decide which flavors to feature on your menu?
You're welcome to come down any time! Our menu obviously changes with the season, but it also changes from week to week. We'll spin approximately 20 flavors per day so everything is fresh. Then, depending on what's available in the markets, the menu may change from day to day.
Is there one flavor of gelato that you tried to make that just didn't work out?
We tried to make Balsamic Black Pepper Strawberry Gelato once. On a plate, those ingredients taste really delicious in combination but we could never get the gelato recipe right. No matter how much we adjusted the amounts of balsamic vinegar or pepper, we came to the same conclusion – the strawberries were enough. Both the black pepper and the balsamic were too strong and overpowered the fruit, so we abandoned the recipe. Though, now that we've talked about it, I want to go back and try again!
Other than gelato, what is your favorite dessert?
I love tiramisu! That is, hands down, my favorite dessert. And, of course, we make a terrific tiramisu gelato at Dolcezza.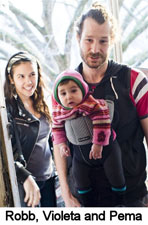 When you're not at the gelateria or at any of the farmers' markets where you sell your gelato, what do you like to do in your spare time?
Violeta and I love to travel and we love to read. And, we have a newborn baby at home who is 7 months old. Life with Isabella is life now, and we're perfectly okay with that. As long as we're still eating good food and sharing it with family and friends, life is just as it should be.
So, I have to ask, before we end the interview… Has the President or the First Lady been in to Dolcezza to try the gelato yet?
Haha! No, they haven't been in yet. I've spoken to the Chef at the White House about strawberries but still haven't seen the President or First Lady in person. Supposedly, Sasha and Malia love gelato, so, hopefully, they'll be in this summer.
Dolcezza – Georgetown
1560 Wisconsin Avenue NW
Washington , DC 20007
(202) 333-4646
Dolcezza – Bethesda Row
7111 Bethesda Lane
Bethesda , MD 20814
(301) 215-9226
For Farmers' Markets Locations, check the website: http://dolcezzagelato.com/
Hours: 11 AM to 11 PM , Sunday-Thursday; 11 AM to Midnight , Friday-Saturday