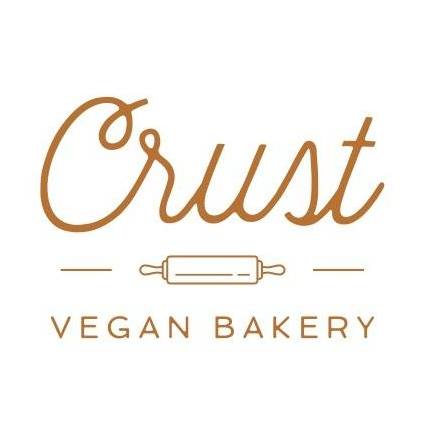 We chose Crust Vegan Bakery as our highlight for the Featured Eatery Blog. Their women-owned and operated business model, punk rock roots, and Instagram aesthetic are just a few of the reasons why she loves knowing and working with them. Crust's food philosophy is simple: they want to make good food that is good for the environment, with every single detail considered. Their love for baking, their ingredients, and each other are evident from the work they put out.
Just off Krams Avenue in Manayunk, PA, an inconspicuous building houses the kitchens of some of Philadelphia's finest independent bakeries and ice creameries. Although industrial and sterile on the outside, once you open the door to Crust Vegan Bakery, you are immediately greeted with good smells and even better vibes.
"We both moved to Philadelphia with the mindset of opening a vegan bakery," says co-owner Shannon Roche. "There were a lot of cities with two or three already so there was a lot of potential here."
After both becoming vegan and
moving to Philly from the South, Roche and business partner, Meagan Benz, were
set up by mutual friends within the vegan community. Although apprehensive at
first, the two instantly clicked and spent hours at a coffeeshop discussing
their future business.
"The next day, the Facebook was
rolled out, Instagram page was getting started, we were both ready," mentioned
Benz. "It was perfect, we sealed the deal, it was like a handshake, and we
haven't looked back," added Roche.
In terms of opening and
maintaining your own business, the two offered a lot of insight and advice.
Benz, who volunteers as a Big Sister to an entrepreneurial-spirited young
woman, encouraged a passion outside of your business. Both her and Roche also
advised learning and listening to your employees as well.
"It was perfect, we sealed the deal, it was a handshake,

and we haven't looked back"
"They are the ones making
everything every day. I never made a 20x batch of scones before, so getting
their feedback on things that I'm not even in tune with as we grow is
important," she states.
"Seeing your staff succeed and
giving them the tools that they need to blow your mind is great," says Roche.
The Crust Crew consists of
the two owners plus four talented women. Each baker's background lends itself
to a skill that rounds out the whole team, making for a working environment and
that each enjoy coming to every single day.
"Our newest hire has a
traditional pastry background," says Roche. "It is super helpful because [Benz
and I] never baked before [we became Vegan], so I never made a croissant with
butter before."
For more information on Crust's ordering and wholesale locations, please visit their website. If you would like us to feature your food biz in this section please send us a note or give us a call.
Crust Vegan Bakery
CrustVeganBakery.com
Email: Info@CrustVeganBakery.com OR CrustVeganBakery.com/Contact
Facebook: facebook.com/CrustVeganBakery
Instagram: CrustVeganBakery
Twitter: Crust_Bakery
Upcoming Events for Crust Vegan Bakery

April 11, 2019- Catch them at the Philly Cake Crawl at the Penn Museum. You'll be able to try samples from them and other bakeries in the Philly area.
April 14, 2019- Learn how to make coconut cream pies and the cutest baby bunts at a spring baking class at Cook. Tickets go on sale March 13. 2019.
May 11-12, 2019 – The Crust Crew will be at the 23rd St Armory for the Spring Punk Rock Flea Market!