Featured: Janell Canino of C.Cups Cakery
by: Veronica Armstrong of www.VeronicaArmstrong.com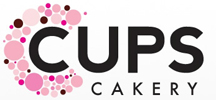 Cupcakes continue to dominate as the go to sweet tooth satiating treat across America. The delectable treats don't seem to be decreasing in popularity. They're delicious, portable, and affordable. What's not to love?
I recently had the pleasure of speaking with thriving cupcake business owner Janell Canino. She owns The C.Cups Cakery in Southern Pines, North Carolina. The mother of three and busy military wife took a few minutes to tell me more about her unique business.
Where did the inspiration for C Cups come from?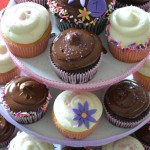 In 2009 my mother was diagnosed with breast cancer. My family gathered and rallied around her. We love baking together and the idea grew from there.
How did you get your start?
After some discussions with my husband and a few years spent researching the local market and developing a business plan, I decided to go for it. I knew it was now or never and we were ready. Things would either turn out great or not. We were ready to take a chance and move on from there.
How long have you been in business?
9 months and the business is doing great.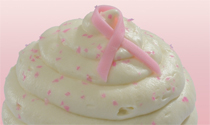 The C Cup Cancer Care Cupcake is a beautiful cupcake. Can you tell me more about your charitable involvement?
After my mother's diagnosis and recovery from breast cancer I was inspired to help others facing the disease. I developed a signature cupcake. 100% of the proceeds from the sale of C.Cup cupcakes are donated to the Cancer Care Fund.
Which cupcake creation are you most proud and why?
My bananas foster cupcake. It won a local competition. It is a coconut rum cake with vanilla butter cream frosting and topped with caramelized banana. It is a wonderful cupcake.
Which cupcake is your most popular?
Right now the Paleo cupcake is selling out very quickly. The Paleo diet is very popular right now and lots of people are skeptical about whether a cupcake can be Paleo and tasty but it truly is. People love it and call ahead to order them.
Any big plans on the horizon?
Eventually we would like a bigger place. I intend to stay small at first in order to stay true to my mission. We prepare everything from scratch and in house and use ingredients supplied by local vendors as the seasons allow. I don't want to mass produce so I am taking things slowly right now. I definitely wouldn't mind another store in two to five years.
Do you think cupcakes are a trend or are they here to stay?
They're definitely hot right now but I think they will last. They're easy to carry around, you don't have to have a huge cake sitting around, and there is a flavor for everyone. They're so versatile.
C.Cups Cakery
105 E. Pennsylvania Ave
Southern Pines, NC 28387
(910) 246-CUPS(2877)
www.ccupscupcakery.com
Store Hours:
Tuesday – Saturday 10:30 AM – 5:30 PM