Arcata Scoop: Interview with the founder.
by: Veronica Armstrong of www.VeronicaArmstrong.com

Arcata Scoop is a handmade and organic ice cream shop in Northwestern California. This lively college
town has a thriving localvore and green scene. Garrett is passionate about providing his customers with
drop dead delicious flavors while supporting the finest vendors in Arcata.
What inspired you and your wife to open Arcata Scoop?
My wife has a twin sister who opened her own ice cream shop a number of years ago. It inspired us to open
our own store. Our model is similar. Arcata Scoop opened in March 2009. We just celebrated our shop anniversary and business is great.
What sets Arcata Scoop apart from other ice cream vendors?

We make hard served ice cream that is scooped, as opposed to yogurt and soft serve. We run a traditional
ice cream store. We make everything in-house including the waffle cones and most of the add-ins like
cookie dough.
Arcata Scoop uses 100% organic ingredients. We try to feature as many local products as possible
including fruit and chocolate. My wife and I have lived in Arcata for about fifteen years and are very much
a part of the local community. We are very committed to supporting our local economy.
Arcata Scoop offers some unique flavors. Which are most popular?
We always have vanilla, chocolate, and strawberry on the menu. Vanilla honey lavender is one of our
signature flavors. It's unique and has become really popular. Vanilla tends to sell very consistently.
I try to keep a chocolate flavor on the menu at all times. We offer a chocolate fudge brownie, a chocolate
orange chip, and a chocolate grasshopper cookie type flavor. Our customers tend to like the flavors that
contain chocolate best. Those flavors sell consistently.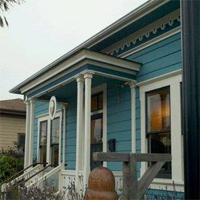 Where do you see the shop in the future?
Our priority is our children. We wanted to open a business that would make money, be fun, and conducive
to having a nice family life. We don't want to compromise quality, the selection of ingredients so we would
like to remain hands on owners. We don't intend to grow much larger, we have a nice lifestyle and would
like to keep up the business as it is.
We're avid kayakers and recreational people. We like to enjoy the local community and coast. There is lots
to take advantage of and we do that.
Arcata Scoop
1068 I Street
Arcata, CA 95521
(707) 825-7266